Chris Todd wins The Job, Auburn Hopes For Revenge Against Mississippi State
for
24-Hours of Propaganda
Chris Todd, Auburn's Official Starting Quarterback, Finally.....

Following a surprisingly sloppy Louisiana-Monroe game in which neither Chris Todd or Kodi Burns were able to break through and outshine the other, Chris Todd had the chance to win the starting job last week against Southern Mississippi. He delivered to the tune of going 21-31 for 248 yards.
Kodi Burns
was expected to be out entirely for the game, but came in for a few plays in the third quarter, throwing an interception among his three pitiful pass attempts.
Many Auburn fans are no doubt disappointed
, as Kodi Burns has been a known quantity since last year, and many expected that he would be the heir-apparent to Brandon Cox, last year's senior starter. While Burns is unquestioningly electric in certain running situations, his passing has always been the weak part of his game. Through last weeks game his career passing statistics are 14-38 for 159 yards with two touchdowns and two interceptions.
Sylvester Croom, if he doesn't sleep through the alarm clock like he did in week one against Louisiana Tech and entirely miss the game, looks to continue his personal sparring match with Tommy Tuberville.
Sylvester Croom, quarterback Wesley Carroll, and the Mississippi State Bulldogs look to see if they can make lightening strike twice as Auburn seeks to avenge the
19-14 upset
the Bulldogs brought to Jordan-Hare Stadium last year.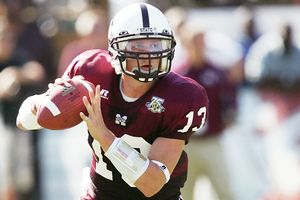 Wesley Carroll, like Chris Todd, is looking to make a name for himself this Saturday.
Todd played in five games for Texas Tech in 2006. He completed 25 of 35 passes (71.4 percent) for 241 yards with one touchdown and no interceptions. Todd's best game of 2006 was a 10-of-12 passing effort for 151 yards and one touchdown against Southeastern Louisiana.
Todd played in three Big XII games against Missouri, Colorado and Baylor. He completed 11 of 18 passes in those three games for a combined 69 yards. Todd redshirted in 2005.
Coming out of high school, Todd was a Top 300 recruit by Man Emfinger Recruiting, a three-star recruit (Rivals.com) and was rated the No. 21 pro-style quarterback in the nation after his senior season. Todd threw for 10,776 yards and 120 touchdowns in his high school career.
As a senior in 2004, Todd guided his team to its first state championship since 1981. As a junior he completed a state-record 303 passes for 4,595 yards and 50 touchdowns in taking EHS to the state championship game. As a senior, Todd threw for 3,180 yards and 38 TDs.