Culpepper Retirement Paperwork Stalled by Talks with New England, Moss and Culpepper May Reunite
for
News Around the NFL
Sources have indicated that quarterback Daunte Culpepper has not yet filed his retirement papers into the league and that, given the catastrophic events that took place for Tom Brady and the New England Patriots Sunday, Patriots WR and former Culpepper teammate Randy Moss has been very vocal about getting Culpepper into town for a visit. The Patriots are, as sources state willing to bring Daunte in for a physical (which he passed in Pittsburgh)and
go from there.
While this might appear to be exactly what Culpepper was in search of(a reunion with Moss, a chance to play for a playoff team), one has to wonder how Culpepper's insistence on representing himself will play out for him this time around and with the Patriots.
Apparently $730,000 was not enough money for Culpepper to take the job in Pittsburgh
, and it's highly unlikely the legendarily frugal Patriots are going to offer more money--even now with an amplified need with Tom Brady out for the season.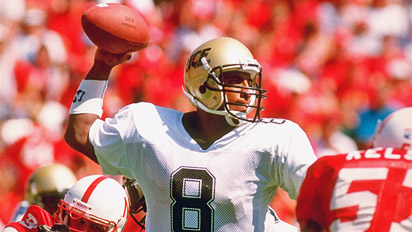 Culpepper threw for 318 yards in a 38-24 loss in 1997 at Nebraska, a team that eventually shared the national championship. The Knights were ahead 17-14 at the half before the Cornhuskers rallied for the triumph. "People may not know about Culpepper now," Nebraska coach Tom Osborne predicted after the game. "But the whole world will find out about him, because he'll be making big noise on Sundays."