Obama Calls for Strikes Against Pakistan, Talks with Iran
for
24-Hours of Propaganda
Political Pundits Jon Stewart and Stephen Colbert on the cover of Entertainment Weekly.
The first presidential debate was held as scheduled at the University of Mississippi Friday and it was a very close contest. The debate was to focus on foreign policy, but due to the national news this week, the first thirty-five minutes dealt with the economy and specifically the Wall Street bailout currently being crafted in Washington. Sen. McCain managed to score some good points on Obama's earmark requests and out of control government spending. McCain jabbed at Obama, who he said has requested millions of dollars in pork barrel spending, including some after he began running for president. As he does frequently, the Republican vowed to veto any lawmaker's pork barrel project that reaches his desk in the White House.
John McCain portrayed himself as a battle-tested elder running against a naive rookie.
From there, however, the debate turned to the promised subject of foreign policy, and the tide of the evening clearly turned to McCain. McCain repeatedly sounded his theme that Obama "doesn't understand," the implications of his positions while Obama tried to counter that McCain was a clone of President George W. Bush.
But Obama's barbs did not stick to McCain, who has a long history of opposing his party on any number of issues. One particularly effective way McCain demonstrated this was when he rattled off a list of U.S. military actions and explained why he either supported them or opposed them. Another tactic McCain used effectively was to point out that he has traveled to many of the world's hot spots, like Georgia, Pakistan's frontier, Afghanistan, and Iraq, and has seen first hand the security challenges each poses to the United States. McCain demonstrated a depth of knowledge of world affairs that Obama, however well studied and prepped he may be, cannot possibly match.
McCain also succeeded in getting under Obama's skin with his criticism of Obama's understanding of world affairs. That led to Obama interrupting, protesting, and attempting to correct the record while McCain was speaking.
"If we have actionable intelligence about high-value terrorist targets and President Musharraf won't act, we will," Obama said.
"You don't say that aloud. If you have to do things, you have to do things, and you work with the Pakistani government," McCain countered.
Stylistic mistakes like this often overshadow substance, as Vice-President Al Gore learned in 2000 when he beat George W. Bush in the first presidential debate, yet was viewed as the loser because of his persistent sighing throughout the debate. Obama's interruptions are a tell for when he feels that he has been hurt by something McCain has said.
McCain, on the other hand, was cool and calm throughout, except for one time when, appearing exasperated, he cut into an Obama answer on meeting with Iranian President Ahmadinejad. But that was an effective moment for McCain, as he made the point that Obama's desire to talk to the Iranians is naive and showed some emotion in doing so.
"This is dangerous. It isn't just naive; it's dangerous," McCain said.
McCain gets points for his vastly greater knowledge and experience in dealing with foreign policy issues and for taking Obama off his game and making him play defense. Stylistically, McCain wins again for frustrating Obama into losing his poise a little.
The Real Obama's.
Tony Blankley explained in the Washington Times
Wednesday, "The mainstream media have gone over the line and are now straight out propagandists for the Obama campaign. While they have been liberal and blinkered in their worldview for decades, in 2007-08 for the first time, the major media are consciously covering for one candidate for president and consciously knifing the other. This is no longer journalism — it is simply propaganda. The image of Sen. Obama that the press has presented is not a fair approximation of the real man. They have consciously ignored whole years in his life, and showed a lack of curiosity about such gaps that bespeaks a lack of journalistic instinct. Thus, the public image of Mr. Obama is of a "Man who never was."
"The mainstream media ruthlessly and endlessly repeats any McCain gaffes, while ignoring Obama gaffes. You have to go to weird little Internet sites to see all the stammering and stuttering that Mr. Obama needs before getting out a sentence fragment or two. But all you see on the networks is an eventual one or two clear sentences from Mr. Obama. Nor do you see Mr. Obama's ludicrous gaffe that Iran is a tiny country and no threat to us. Nor his 57 American states gaffe. Nor his forgetting, if he ever knew, that Russia has a veto in the United Nations. Nor his whining and puerile "come on" when he is being challenged. This is the kind of editing one would expect from Goebbels' disciples, not Cronkite's.
"More appalling, NBC's "Saturday Night Live" suggested that Gov. Sarah Palin's husband had sex with his own daughters. That scene was written with the assistance of Al Franken, Democratic Party candidate for Senate in Minnesota. Talk about incest.
"But worse than all the unfair and distorted reporting and image projecting, is the shocking gaps in Mr. Obama's life that are not reported at all. The major media simply has not reported on Mr. Obama's two years at Columbia University in New York, where, among other things, he lived a mere quarter mile from former terrorist Bill Ayers— after which they both ended up as neighbors and associates in Chicago. Mr. Obama denies more than a passing relationship with Mr. Ayers. Should the media be curious? In only two weeks the media has focused on all the colleges Mrs. Palin has attended, her husband's driving habits 20 years ago and the close criticism of Mrs. Palin's mayoral political opponents. But in two years they haven't bothered to see how close Mr. Obama was with the terrorist Ayers.
"Nor have the media paid any serious attention to Mr. Obama's rise in Chicago politics — how did honest Obama rise in the famously sordid Chicago political machine with the full support of Boss Daley? Despite the great — and unflattering details on Mr. Obama's Chicago years presented in David Freddoso's new book, the mainstream media continues to ignore both the facts and the book. It took a British publication, the Economist, to give Mr. Freddoso's book a review with fair comment.
"The public image of Mr. Obama as an idealistic, post-race, post-partisan, well-spoken and honest young man with the wisdom and courage befitting a great national leader is a confection spun by a willing conspiracy of Mr. Obama, his publicist David Axelrod and most of the senior editors, producers and reporters of the national media."
The Earmark King, Barack Obama, and one of his "pet projects" in Illinois that simply lined the pockets of campaign donors and volunteers--past and present.
A $100,000 state grant for a botanic garden in
Englewood, IL, that then-state Sen. Barack Obama awarded in 2001 to a group headed by a onetime campaign volunteer is now under investigation by the Illinois attorney general amid new questions about whether the money might have been misspent. The garden was never built. And now state records show $65,000 of the grant money went to the wife of Kenny B. Smith, the Obama 2000 congressional campaign volunteer who heads the Chicago Better Housing Association, which was in charge of the project for the blighted South Side neighborhood. Smith wrote another $20,000 in grant-related checks to K.D. Contractors, a construction company that his wife, Karen D. Smith, created five months after work on the garden was supposed to have begun, records show. K.D. is no longer in business.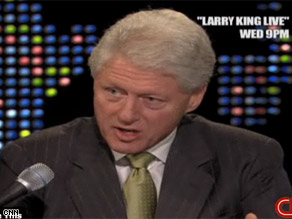 Clinton, doing what he does best.
On Wednesday, the former president fired . "Well, if you look at the speech I gave in Denver and the speech Hillary gave, I think it would be hard to question the depth of our feeling and the fact that we gave good reasons for why we were supporting Senator Obama and Senator Biden," he told King, then explained the thinking by some Democratic critics who've questioned his level of support for Obama, and have called on him to attack John McCain. "I personally think that is not a good strategy to win this election," he said. "That is, everybody wants Hillary or me or, for that matter, Senator Obama or Senator Biden just to say bad things about Senator McCain or Governor Palin. I just don't believe that getting up here and hyperventilating about Gov. Palin, or Sen. McCain for that matter, is a productive use of a former president's time and is not a vote-getter."
Clinton explained to King his October Campaign schedule, which is expected to include Florida, Ohio, Pennsylvania and Nevada, "at a minimum" in October, "after the Jewish holidays are over...I think it would be — if we're trying to win in Florida, it may be that — you know, they think that because of who I am and where my political base has traditionally been, they may want me to go sort of hustle up what Lawton Chiles used to call the 'cracker vote' there. But Senator Obama also has a big stake in doing well in the Jewish community in Florida, where Hillary did very well and where I did very well. And I just think respecting the holidays is a good thing to do."
New Hampshire is probably the state most likely to flip from Democratic to Republican, given McCain's special bond with the state's independent voters who twice helped him win GOP primaries. Indicating Obama's concern, he's running TV ads in the pricey Boston media market; McCain is not. Of McCain's top two targets, Pennsylvania has tightened somewhat in the past month to slide from leaning-Obama into the tossup category. Wisconsin remains tantalizing close as it does about this time every four years before voting Democratic.
With the exception of Virginia, the tossups look remarkably similar to those of the most recent elections, despite Obama's efforts to try to pick off traditional Republican bastions. McCain, meanwhile, has an edge in Bush-held bellwether Missouri, though it continues to be hard-fought by both candidates.
Elsewhere, Obama recently abandoned efforts in the home state of Alaska Gov. Sarah Palin, McCain's running mate, as well as in Georgia. North Dakota workers for Obama also are being dispatched elsewhere, and ads for that state are slated to stop airing next week. Montana, too, has largely fallen off the playing field. Surveys show McCain with comfortable leads in all four.
McCain after his most recent bout with melanoma over 7 years ago.
Two liberal groups –
one of them directed by a brother of the Democratic Party chairman Howard Dean
– began running a graphic attack advertisement Thursday morning raising questions about Senator John McCain's health. Showing vivid and unflattering images of the fresh scar that appeared on Senator McCain's face immediately after his last operation for melanoma skin cancer eight years ago, the commercial ends with a screen headline that reads, "Why won't John McCain release his medical records?" The commercial is among the harshest to run against Mr. McCain yet, seeking to exploit the sensitive issues of health and age. Officials with the groups running the ad, Brave New PAC and Democracy for America, said they were only showing the spot initially on MSNBC over the next few days, a limited run intended to draw news media attention on a network that has increasingly catered to liberal tastes.
If military experience was the only thing that McCain had that Obama didn't, it would be enough when we are embroilled in at least 3 armed conflicts all around the globe.