You Know It's Serious If They Worked On Sunday
for
24-Hours of Propaganda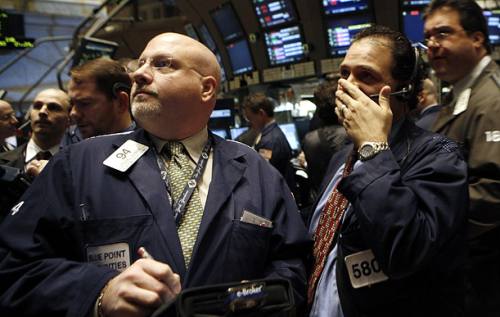 "It's alright, I always wanted to own a bait shop up in New Hampshire..."
After stating Friday that he was not in favor of John McCain's proposed tax cuts, Allen Greenspan came out on Sunday declaring
the current financial crisis
the worst he has seen in his entire career.
"There's no question that this is in the process of outstripping anything I've seen, and it still is not resolved and it still has a way to go," Greenspan said.
"And indeed, it will continue to be a corrosive force until the price of homes in the United States stabilizes.
"That will induce a series of events around the globe which will stabilize the system."
Sunday
a rare emergency trading session opened in New York
to allow Wall Street dealers in the $455 trillion derivatives market to reduce their exposure to a potential bankruptcy filing by Lehman Brothers.
Expectations that the 158-year-old Lehman would survive dimmed Sunday afternoon after
Barclays PLC withdrew its bid
to buy the investment bank. Barclays and Bank of America were considered front-runners to buy Lehman, which is foundering under the weight of $60 billion in soured real estate holdings.
This weekend has been one of the latest in a series of
monumental crisises
that have plagued the US and World economy every since the booming housing market halted abruptly for many parts of the U.S. in late summer of 2005.
Financial giant Bear Stearns collapsed spectacularly in March, 2008, and Merril Lynch and Lehman Brothers--both investment banks currently facing failure--were adament at the time that they were not facing similar problems.
New York Fed President Timothy Geithner, was
outright opposed
two days ago against using taxpayer funds to help a purchaser take Lehman over.
The U.S. government, which bailed out Fannie Mae and Freddie Mac a week ago and orchestrated the sale of Bear Stearns Cos. to J.P. Morgan Chase & Co. in March,
played much tougher with Lehman,
betting that the financial system will be able to withstand the failure of a large institution without severe disruptions to an already weak economy.
How the 158-year-year institution came to this is a tale of hubris and overreaching -- and a big dose of bad luck.
Lehman's fall from grace was brutally fast. Until June, it had never even reported a quarterly loss as a public company.
On other parts of Wall Street, 94-year-old Merrill Lynch & Co. agreed late Sunday to sell itself to Bank of America Corp. for roughly $44 billion.
The deal, worked out in 48 hours of frenetic negotiating, could instantly reshape the U.S. banking landscape, making the nation's prime behemoth even bigger.