Tennessee loses in Overtime to UCLA, Phillip Fulmer Dazed and Confused, Slick Rick is Back!
for
Gods Among Men: Coaches and Coordinators in the SEC
it always feels good to beat Tennessee
The Rick Neuheisel era in UCLA is off to a dramatic start with a 27-24 victory in overtime versus 18th-ranked Tennessee. Quarterback Kevin Craft rebounded from what many would consider the nightmare of quarterbacking, a first half with four interceptions, to lead a miraculous come from behind victory. The Tennessee Volunteers went into halftime up 14-7, but during the second half excellent play by UCLA's quarterback and defense kept them in the game and pulled them away from the under-inspired Tennessee team. Tennessee had hoped to rebound from a 45-31 losing performance against California the year before, but failed to live up to advance billing.
Tennessee represented The SEC, who came into the game as the defending national champion conference with a 10-1 mark on opening weekend. The sole loser from the SEC before Monday Night's game was Mississippi State at Louisiana Tech, with Sylvester Croom's crew losing unceremoniously and unexpectedly. UCLA represented the PAC-10 in this showdown, which was 6-3 entering the contest which also reflected two inter conference games played on the opening weekend.
Fat Phil Fulmer's team looked well prepared in the first half, and Jonathan Crompton, Tennessee's oft-injured quarterback in his first starting action, played well throughout. UCLA quarterback Kevin Craft, on the other hand, threw 4 interceptions--the first two coming on sequential plays--in the first half and had he not already been the third-string starter without replacement he would have likely been benched somewhere between interceptions two and four.
Instead, when asked if he considered giving the quarterback the hook at halftime, Neuheisel said, "I told Craft that I threw four interceptions in my first start, but (Coach) Terry Donahue waited until the third game before he pulled me."
Craft, who started five games at San Diego State in 2006, became the UCLA starter after Patrick Cowan went out for the year with a knee injury in spring practice, and backup Ben Olson broke a bone in his right foot in practice on August.
A good deal of press had gone into UCLA declaring to USC, the perennial PAC-10 powerhouse that dominates in the polls, BCS rankings, and millions of fans worldwide, that their reign was coming to an end, presumably because
they
, UCLA, were going to magically become good overnight. Every match-up between SEC and PAC-10 teams draws a great deal of attention, and last year Tennessee went down in the season opener to California.
What about this new guy Neuheisel? "Every sign points to falling in love with him," says analyst Larry Brown, "I'm not. I see a disingenuous snake creating something too good to be true. I'm guessing the joy of this win won't be felt in five years when the program's on probation."
The UCLA Bruins seemingly made adjustments well throughout the game, whereas Tennessee never seemed to alter it's offensive or defensive schemes. Besides injuries, general fatigue and cramps seemed to hamper the UCLA Bruins worse than the Tennessee Volunteers, who are used to playing at a much higher elevation. This could be a concern for UCLA when they have to start playing the likes of cross-town rival USC, or a few of the other speedy PAC-10 teams.
As expected, Tennessee special teams suffered from the loss of veteran punter and star athlete Britton Colquitt. A blocked punt resulted in UCLA's first touchdown, and in the moment, a seeming shift in momentum that petered out well before halftime with little result.
The difference between a first and third string starter at quarterback was immediately obvious, with all three of UCLA's opening possessions ending with long interceptions. Three of Craft's four interceptions were thrown right at defenders, beautifully arched and placed balls, lofted, and straight into the hands of opposing players--Rex Grossman ("As long as someone catches the ball, it is not a wasted effort") would have been proud. Jonathan Crompton, who was noticeably held together with what must have been a hectare of medical tape, performed serviceably throughout the game, countering concerns about his toughness and durability.
"...if we can hit field goals like Alabama, we can beat anybody..."
The kicking game lost the game for the Tennessee Volunteers, more than any other single component. Crompton was competent, Arian Foster was dazzling in flashes, and the Tennessee defensive backfield shut down the UCLA passing game almost completely until the fourth quarter.
"They were crying about the quarterback situation; I knew darn well they'd be ready for us," Fulmer said. "We made enough mistakes tonight to fill three or four games. We will play better teams than UCLA is, and I know we're a better team than we were tonight."
"It was just a matter of settling down," Craft said. "I wasn't nervous at all. I just wasn't in a good rhythm. In the second half, I found it."
Fulmer was impressed, saying, "The kid (Craft) is a coach's son, a very talented young man. He throws the ball extremely well. He threw four picks in the first half, but it didn't seem to faze him. He just executed very well in the second half."
Gone is the time that the Tennessee Volunteers can count on Britton Colquitt to pin the opponent precariously near their own goal line. Or at least for four more games, at least one of which, given Monday's result, is an absolute must win for Fat Phil Fulmer. In two weeks Florida travels to Knoxville, and a loss to the Gators could make it impossible for Fulmer to fulfill his contractual obligations in only his first year of the extension.
"Yes, the UCLA-Tennessee game could have gone either way,"
Coach
said, "but it went against the Vols in overtime, and that loss to the Bruins raises some serious questions about Fulmer, with the most serious being: How can a head coach in his seventeenth year at the helm of a top SEC team (Phil Fulmer), lose to a coach that was tossed out of the game of college football just a few years ago (Rick Neuheisel), and took over an UCLA football program that was on the verge of disappearing from the Pac-10? Answer: There is no legitimate answer to that question, and that is why Phil Fulmer finds himself right back on the Hot Seat! Tennessee was breaking in a new QB and offensive coordinator, but it was the Tennessee defense that let the team down in the fourth quarter, when they could not stop a third-string QB and a banged-up UCLA offense."
Coach added, "Phil Fulmer and his staff got out-coached on a beautiful night in the Rose Bowl, and that has become an all too familiar story in recent years in Knoxville, and that means the pressure is going to very high and intense as the Vols look ahead to a "MUST-WIN" game against Florida in two weeks. Welcome back to the Hot Seat Phil Fulmer! As tough as the SEC is these days, it is going be damn hard to get off of the Hot Seat this time."
"If there was even a shred of doubt that UT will never return to football prominence under Phil Fulmer, it was completely obliterated last night." said one Tennessee fan after the game.
In rare form, Coach had this praise to add, "Congratulations to Rick Neuheisel for a nice win in his opening game at UCLA. One really wonders what UCLA would have done to Tennessee if they had been able to play the 10 or so starters that got injured in fall camp and in the first quarter of Monday night's game?"
"...fuck you Fat Phil, I hate you too...."

Both offenses were pitiful and out of rhythm in the first half, with Craft having a particularly miserable time, going 7-of-18. Crompton did have 119 yards passing by halftime, going 11-of-23, with one interception. Lincoln was short on two field goal tries in the opening half, from 51 yards in the first quarter and 55 in the second. UCLA did not play spectacularly until the flourish of it's final game lead-taking drive in regulation, but what they proved was that it does not take even a marginally good team to beat Tennessee on any given day of the week. Kevin Craft was originally listed as the third quarterback on the Bruin's depth chart before injuries took their toll on the Bruins this August, and the trend continued at game time to such an extent that by the end of the first half the Bruins were missing seemingly half of their team. Craft was numerically, definitely, irreplaceable, and one wonders the veracity of the story Slick Rick Neuheisel told coming out of the locker room to start the second half, and what effect it may have had in bolstering Craft's confidence. Craft came out in the second half an entirely different player, throwing far less interceptions and completing way more passes to his own players.
Along with a new quarterback, each team was beginning its first season with a new offensive coordinator, Norm Chow at UCLA and Dave Clawson with the Volunteers.
The Bruins, plagued by quarterback injuries, went 6-7 last year before firing Karl Dorrell and bringing back their prodigal son. Neuheisel is a former UCLA quarterback, 1984 Rose Bowl MVP, and former PAC-10 coach who was literally disbarred from college coaching in 2003. Rick Neuheisel earned the nickname Slick Rick for his well-documented recruiting violations at Colorado and Washington, leaving both schools on probation after his departure. It would require going into too much detail describing here all at least 80+ NCAA official allegations of recruiting improprieties, ethics violations, witness tampering, illegal interstate commerce, wire fraud, gambling, and other lesser crimes and misdemeanors previously linked to Rick Neuheisel.
"It's good to be back at UCLA, baby," Neuheisel declared loudly via Jumbotron in a speech that took place as devastated Tennessee players, coaches, and personnel vacated the increasingly threatening environment. Coach Fulmer declined to be interviewed by ESPN's Erin Andrews and sulked into the locker room as quickly as possible. With the pomp and ceremony taking place in the Rose Bowl, it would seem that Neuheisel was The Coming of the Mechanical Christ. "We talked to this team all along about being relentlessly positive..."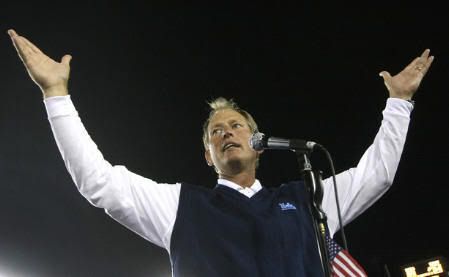 "...all behold the New God Krishna..."
"we will follow you to hell Mechanical Christ!"